Therapeutic Antibody Discovery
Many biopharma and pharma companies are focused on the developing therapeutic antibodies to novel targets. Discovery of antibodies can be a long, arduous and costly process that requires specialized expertise and knowledge of potential pitfalls. Many of our clients have chosen to outsource the discovery of therapeutic antibody candidates to Antibody Solutions so they may focus on downstream development of a validated drug candidate. They have relied on us to bring the most relevant and robust antibody technologies to bear to meet their critical timelines and milestones for discovery.

Our focus has been and remains on animal-based platforms since the majority of therapeutic antibodies either approved for use or in the clinic have been derived from animals. We have worked with both conventional and humanized transgenic animals. Humanized transgenic animals have the advantage of producing fully human antibody variable domains that can be easily converted to fully human antibodies, whereas conventional animals require humanization.

We are the only CRO to have generated antibodies from all four of the non-exclusive transgenic animal platforms available for therapeutic antibody discovery: Alloy Gx™, Harbour Antibodies™ H2L2 and HCAb mice, OmniAb's OmniMouse® and OmniRat®, and the Trianni Mouse™. While use of these mice requires a license from the animal platform provider, working with Antibody Solutions you can rest assured we have the experience and know-how to use these animals to their fullest.

In 2004 we pioneered the use of high-throughput flow cytometry screening for the discovery of therapeutic antibodies to cell surface antigens. Since then we have performed thousands of antibody discovery programs to cell surface antigens, including multimeric and peripheral membrane proteins, GPCRs, transporters and ion channel targets. For our clients, we have discovered at least eight therapeutic antibodies that are currently in clinical trials. We have also supported the preclinical and clinical development of therapeutic antibodies by generating critical reagents (e.g., anti-idiotype, anti-biologic) and assays (e.g., PK and ADA).

Recently clients have called on us to discover antibodies for use in CAR-T cell engineering and gene-therapy monitoring. We are committed to developing and putting into practice the best antibody technologies to bring better therapies to the world.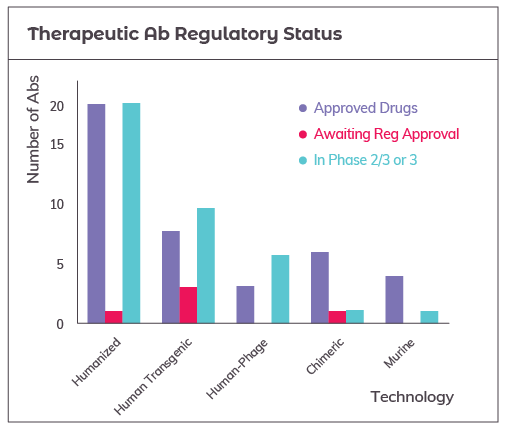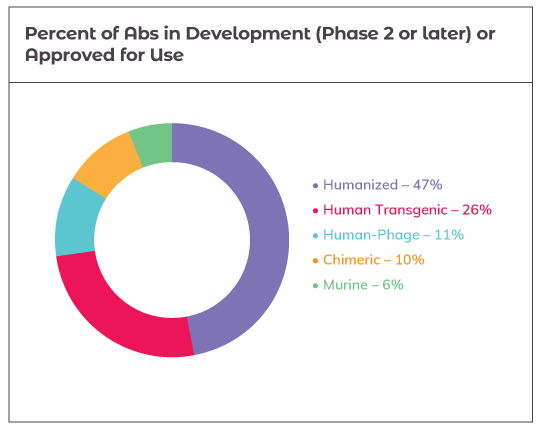 As of March 2015
Sources: Reichert J, 2015, mAbs 7:1, 1–8. Bruggerman M, 2015, Arch. Immunol. Ther. Exp. 63:101–108.