Monoclonal and Polyclonal Antibodies for ELISA Applications
ELISA is tried-and-true; it's often considered the cornerstone assay of antibody discovery, after all. And because of that, its real value in antibody research sometimes gets short shrift. Truth is, getting honest results from ELISA -- the kind that avoid false positives, false negatives or otherwise lead your research astray -- requires a mastery of nuance, an ability to apply art and science with equal dexterity.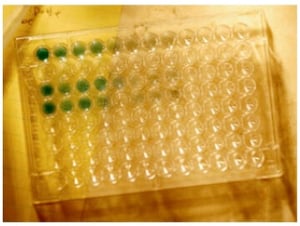 Antibody Solutions' clients come to us because they know that when we run ELISA for them, they can trust the end result -- and the way it got there. We have the knowledge and proven processes that ensure we can maximize the true power of ELISA for your benefit. From the first step to the last, we add value by:
Leveraging ELISA's unique advantages: ELISA-type assays are especially beneficial for soluble or secreted targets. In particular, they're useful for the development of critical reagents or PK or ADA assays to support clinical development or for the discovery and characterization of antibodies against soluble therapeutic targets.
Capitalizing on our experience and extensive immunochemistry toolbox: There are a wide range of commercially available ELISA products and secondary antibodies, buffers and off-the-shelf reagents (including special plates) that can be used to run ELISA. Depending on the specific target and application, it requires careful selection of the appropriate reagents and appropriate experimental design. At Antibody Solutions, we have extensive experience and have developed a comprehensive toolbox of trusted and thoroughly quality-controlled reagents to ensure that ELISAs are run properly (meaning you don't have to waste time and money repeating what could've been effectively addressed the first time around).
Conducting secondary analyses: ELISA can be a powerful tool for comprehensive characterization of antibody candidates. Through receptor-blocking assays and epitope analysis, we can further screen your antibody candidates to determine if they bind differently or to the same epitope. And through ELISA specificity tests, we help you distinguish binding between two closely related proteins (to ensure, for example, binding to your target human IgG and not other human IgGs).
Providing full-service capabilities: ELISA, while being a cornerstone assay, it is just one of many immunochemistry methods that will help support discovery efforts. We offer a complete array of research services, including but not limited to flow cytometry, bio-layer interferometry, cell-line generation and other custom assay development.
In short, the Antibody Solutions team leverages a technology that too often is under-appreciated and overlooked. We continually advance our ELISA and immunochemistry expertise, including high-throughput solutions and new technologies, because we recognize how valuable they are in making your fit-for-purpose antibody discovery process as efficient as possible.
Contact us to learn how we can collaborate to pick the best screening protocols for your next monoclonal and polyclonal antibody development initiative.