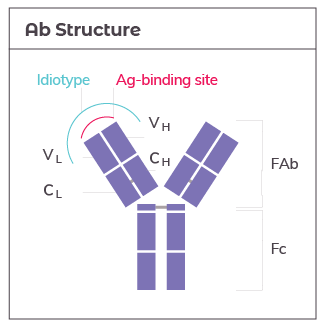 The idiotype is one or more antigenic determinants specific to the variable region of a particular antibody.
Antibody Solutions offers both monoclonal antibodies and affinity-purified polyclonal antibody services to specifically bind the idiotype of the target antibody. We have developed anti-idiotype antibodies that recognize the antigen-free or the antigen-bound target antibody.
Polyclonal anti-idiotype antibodies are typically used as positive controls controls in immunogenicity and anti-drug antibody (ADA) assays. Sometimes polyclonal antibodies may also have utility as a PK assay detecting reagent or PD assay control. Typical species include rabbit, goat and monkey.
Monoclonal anti-idiotype antibodies are used routinely as capture and detecting reagents in PK and PD assays. Typically, mouse monoclonals are generated.