Conjugation
In the screening and immunization stages of research projects, the ability to successfully label and then track your target antibodies provides essential insights. Yet conjugating your peptide, antibody or other protein to haptens, carriers, labels and effector enzymes can take any number of forms. Moreover, determining the best conjugates to use--and knowing how to put them to work quickly and cost-effectively--requires an experienced hand (a fact especially true for immunizations).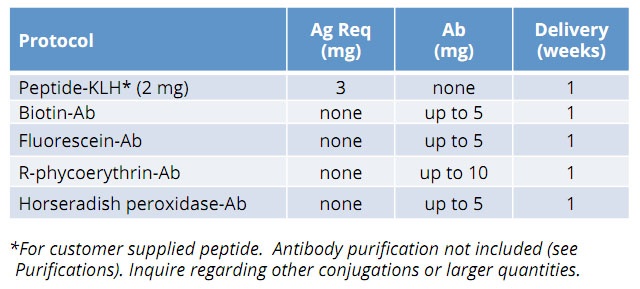 Our team of experts at Antibody Solutions can help you keep your research project on track and moving at full speed since we don't have to farm out that specialty--we have it right here, along with the ability to advance antibody discovery every step of the way. Through our custom conjugation services for both monoclonal and polyclonal campaigns, we can help optimize your research efficiency by:

Conjugating an antigen to carrier proteins such as KLH or BSA for use in immunizations
Generating conjugates for screening purposes
Labeling proteins with fluorophores to enable high-throughput flow cytometry

As a one-stop shop, Antibody Solutions can help you identify the best conjugates to use for immunizations or screening purposes, and then use those materials for your ongoing research initiatives. Your Antibody Solutions project manager will work one-on-one with you and your colleagues to best understand your specific needs and match them to the optimal conjugates.
Magic can happen when the right things are paired together (we see it happen on an almost daily basis around here). So the next time you're looking for the right conjugation expert to join your research initiative, let's talk.