Development of Antibody and PK and ADA Assays for a Cystine Knot Fusion Protein
Joshua K. Lowitz, Michael Trang, Catherine Vo, Glen Lin, Jennifer Somera, Rick Chang, Shannon Jones-Iatauro, Ronald Gamatero, and John S. Kenney - Antibody Solutions, Sunnyvale, CA, USA
Introduction:
Cystine knot peptides, also know as "knottins", are an emerging class of biotherapeutic molecules that can be engineered to bind to a diverse range of targets. Much like therapeutic antibodies, there is a need to develop critical reagents for pharmacokinetic (PK) and immunogenicity assays to support preclinical development, though this new class of molecules can present different challenges and considerations for reagent discovery. To this end, monoclonal and polyclonal reagent antibodies against a cystineknot fusion protein (CKFP) were generated and used for PK and ADA assay development.
Our Scientific Posters:
All Antibody Solutions Scientific Posters are free to download in PDF format. Please complete the form to the right to begin the download process. If you have any questions about our research, don't hesitate to contact us.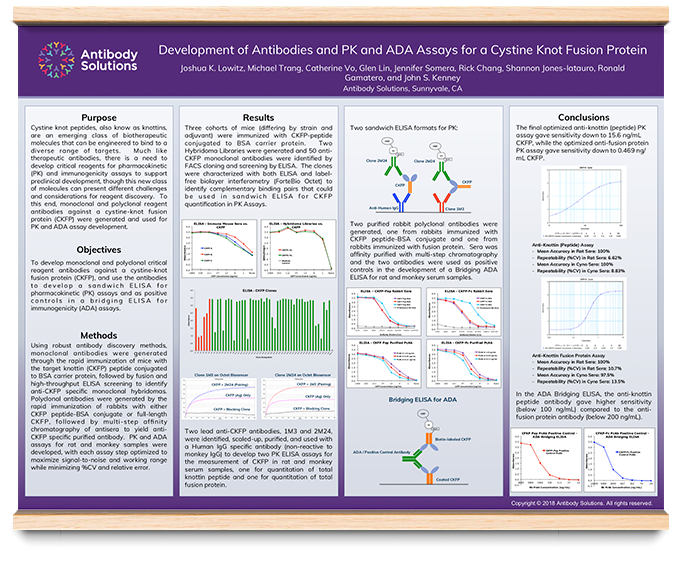 Scientific Posters from Antibody Solutions