Generation of Neutralizing Human Monoclonal Antibodies Against a Therapeutic Target from the Alloy Therapeutics Mouse
Joshua Lowitz, Glen Lin, Avery Van Horn, Jennifer Somera, Ryan Kim, Rick Chang, Catherine Vo, Ronald Gamatero, Opal Arenas, Emmeline Truong, Nicholas Wameling, Birthe Jessen^, Heather Schwoebel, Mike Snaith, and John S. Kenney, Antibody Solutions, Sunnyvale, Calif., USA & Alloy Therapeutics, Hanover, N.H., USA
Introduction:
"Generation of Neutralizing Human Monoclonal Antibodies Against a Therapeutic Target from the Alloy Therapeutics Mouse" summarizes our study that generated neutralizing clones against a soluble therapeutic protein target using ATX-GX mice from Alloy Therapeutics and the Hybridoma LibraryTM antibody discovery platform.


Our Scientific Posters:
All Antibody Solutions Scientific Posters are free to download in PDF format. Please complete the form to the right to begin the download process. If you have any questions about our research, don't hesitate to contact us.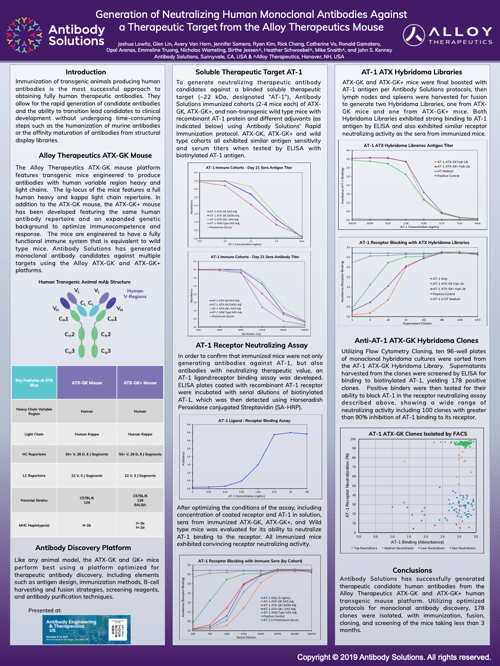 Scientific Posters from Antibody Solutions