Optimization of Therapeutic Discovery Strategies for Human Antibody Transgenic Animal Platforms
Joshua Lowitz, Glen Lin, Jennifer Somera, Leonel Santibanez-Vargas, Catherine Vo, Edgar Rodriguez, Billy Nguyen, Michael Trang, John Nichols and John S. Kenney Antibody Solutions, Sunnyvale, CA, USA
Introduction:
Immunization of transgenic animals producing human antibodies has been the most successful approach to obtaining fully human therapeutic antibodies. They allow for the rapid generation of candidate antibodies to multiple targets of interest and the ability to transition lead candidates to clinical development without undergoing time consuming and costly steps such as humanization or affinity maturation of antibodies from structural display libraries.
Our Scientific Posters:
All Antibody Solutions Scientific Posters are free to download in PDF format. Please complete the form to the right to begin the download process. If you have any questions about our research, don't hesitate to contact us.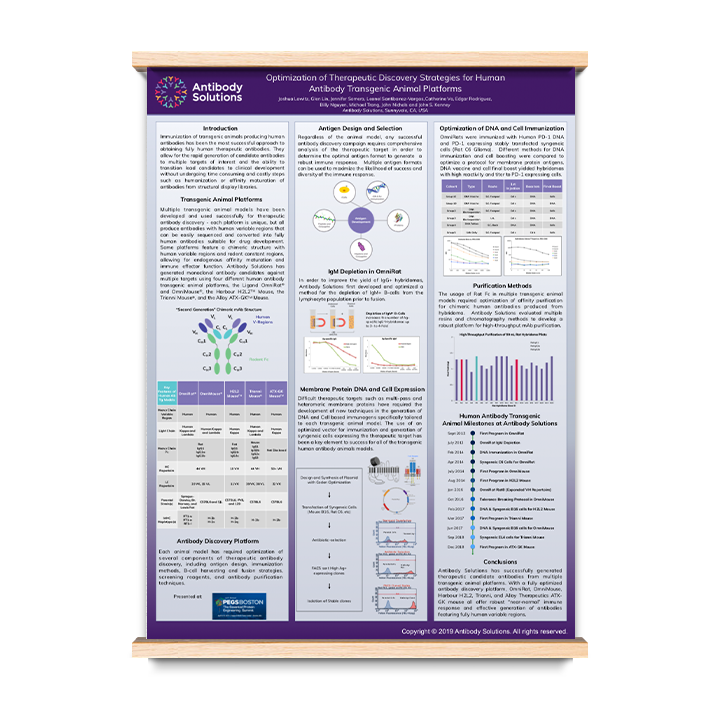 Scientific Posters from Antibody Solutions