Come Together, Right Now—For What Could Be
Dr. John Kenney | 02/06/2020
Antibody Solutions' Grand Opening Celebration | 01.30.20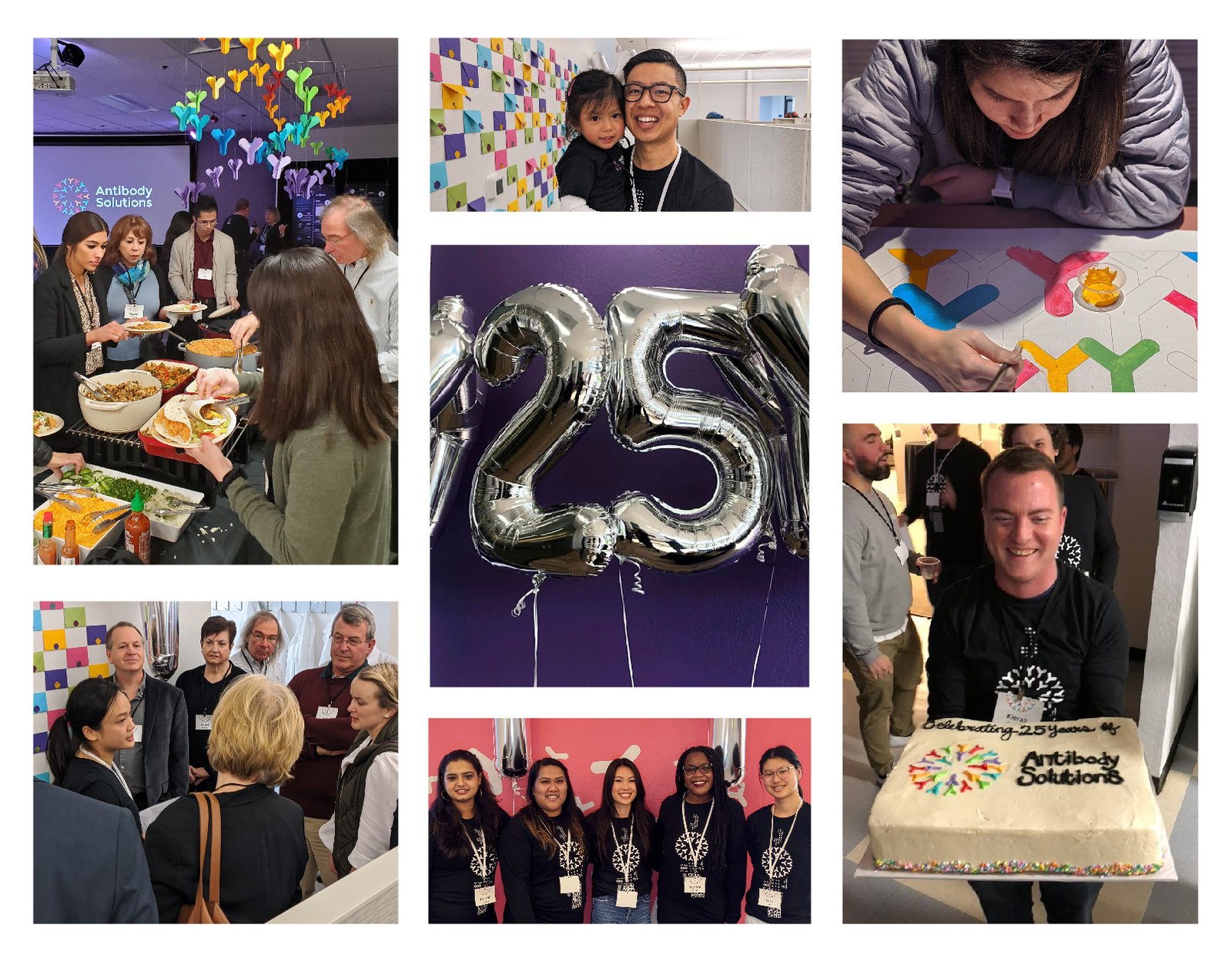 From sparkling selfies and twirling mobiles of antibodies to insightful speeches, facility tours and tasty tacos, Antibody Solutions' Grand Opening celebration last week had a little bit of everything. And we couldn't be prouder!(*)
More than 125 treasured clients, partners and their families came together for what could be--and was—an evening of fun, festivity and friendship. We held the event to commemorate both our new 33,300-square-foot facility in Santa Clara, Calif., and the kickoff to our Silver Anniversary. The theme for our event was "25 Years of Revealing the Future," and it was especially wonderful to welcome many guests who've been with us through the decades.
I'd like to extend a special shout-out to our guest speakers for taking time to share such interesting and inspiring thoughts: Joe Beirao, Nancy Benson, Jim Zanghi, PhD, and Oren Beske, PhD. Each presenter offered an array of perspectives on the past, present and future of where antibody research and discovery fits into the development of more effective therapeutics. Clearly, our industry has come into its own over the years, and Joe, Nancy, Jim and Oren all have played important roles in helping to make that happen.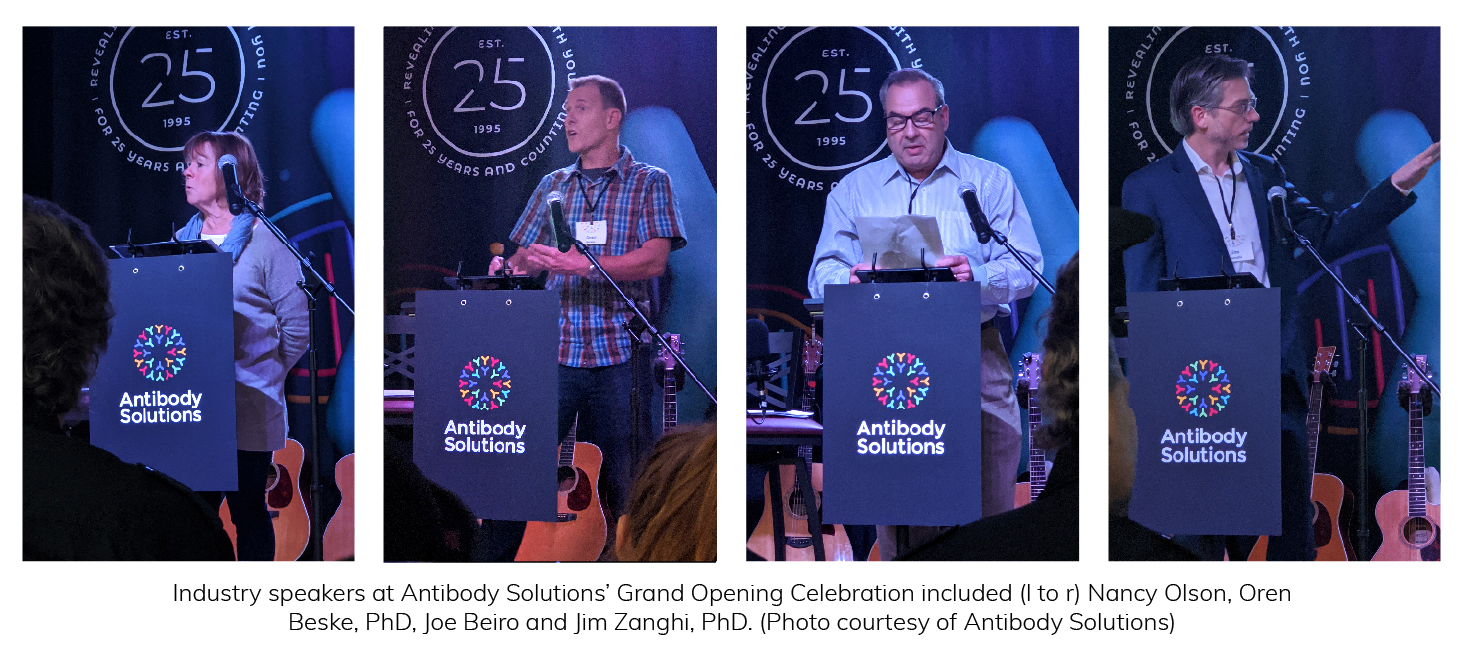 I also want to send a big thank you to Jennifer Somera and Leonel Santibanez for representing the Antibody Solutions team so amazingly as they spoke about their experiences working with our company over the past decade. They, like all of our employees, are extraordinarily knowledgeable, caring and dedicated professionals who always go the extra mile for our clients and their colleagues.
Speaking of which, it was a very special moment when the whole room joined together to congratulate Jennifer on her recent promotion to Project Manager. If you're a client, I can promise you that you'll love working one-on-one with Jennifer.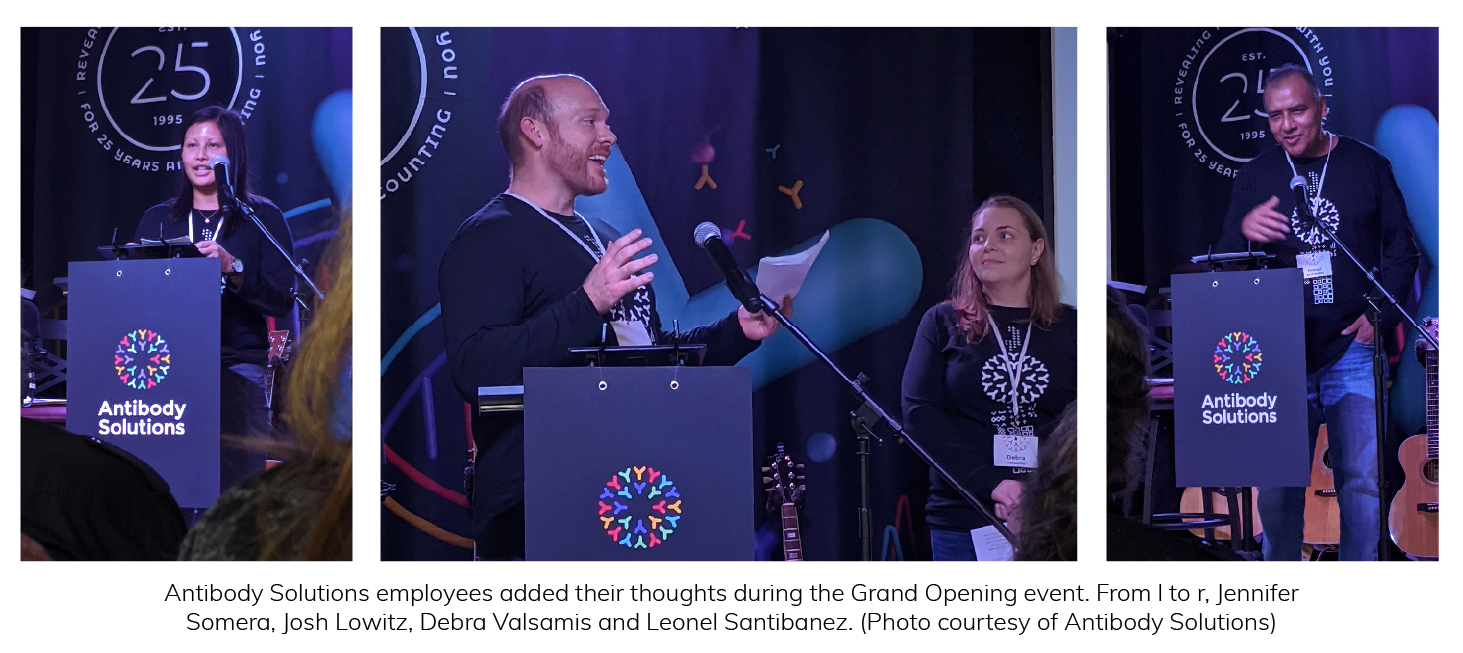 And when it comes to gathering great people and great ideas, we're just getting started. In honor of our first 25 years, we're launching the Antibody Solutions Open House and Networking series that we'll host throughout 2020 (and beyond) in our new space. The series will comprise a mixture of meetings with presentations from thought leaders inside and outside the industry, informal networking events and maybe one or two surprises (think "music jams").
On that note (pun definitely intended), here's a link to a video "interpretation" of one of our favorite Beatles tunes that we performed at the event. Although the song title is the same—"Come Together"—the lyrics are, well, a little different from the original. Okay. A lot different. But we sure enjoyed playing it for our guests, and we hope you'll enjoy the idea of coming together for what could be through antibody discovery!


Please keep an eye out here on our site and in your Inbox for more information. And if you're not on our email list and want to get messages about upcoming events, please sign up here. And we promise: your personal information will not be shared with anyone else and you can unsubscribe easily at any time. Here at Antibody Solutions, we like to follow the Golden Rule: Do not do unto others what you do not want done to you.
We'll be sharing more information and fun from the event in the coming days both here and on our social channels (Twitter and LinkedIn). Thank you for being part of the Antibody Solutions family, and please don't hesitate to reach out if there's ever anything with which we or I can help you.
(*) Or more relieved, now that the event is in the rearview mirror. It took a LOT of work getting everything ready, and the whole Antibody Solutions team deserves a huge THANK YOU. They simply are the best!