Antigen Development
Broad Possibilities in Antigen Development Services
Getting antigen development right from the start is no small matter; a misstep in a crucial early stage, after all, can trip up a research program before it even has a chance to hit its stride.
That's why at Antibody Solutions, we've established a well-earned reputation for designing antigens that generate antibodies with the affinity and specificity you need. By combining our scientific expertise with time-tested processes, we successfully address key variables, including:
Creating syngeneic cell lines: We generate stable syngeneic cell lines for immunization from our proprietary, coded-and-optimized vector that has a success rate of more than 95 percent (much higher than that typically yielded from off-the-shelf vectors).
Securing the best rProteins: Thanks to existing relationships with established, reliable vendors, we can avoid all the hassles, inconvenience and lost time of searching and filtering through a growing universe of rProtein providers to find the highest quality raw material.
Designing and conjugating peptides: When you need to target a specific epitope, we run algorithms to determine which peptides would work best for key amino acid sequences. We then direct synthesis of peptides (based on optimizing for immunogenicity, water solubility and other factors), conjugate them and then validate them through established quality-control protocols.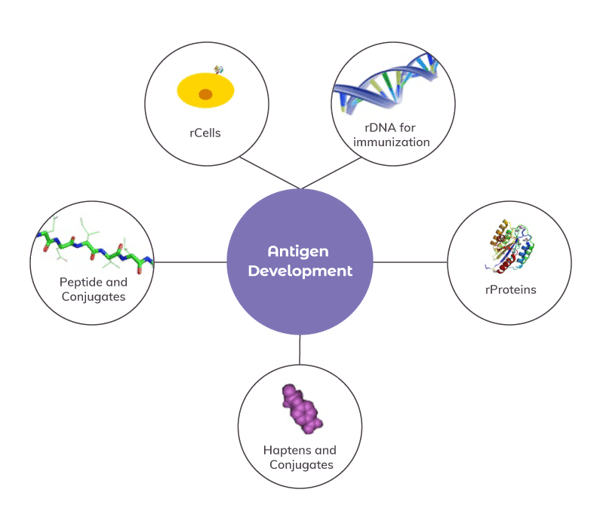 No matter how we approach antigen design on your behalf, the goal is the same: To minimize risk and help you follow proven processes that ensure a high-expressing, homogeneous population of cells for immunization.
To learn more about the science behind our antigen development services, see Obtaining Antibodies to Difficult Membrane Targets Through DNA Cell Immunization and Generation of Antibodies to Difficult Membrane Protein Targets. Or contact us directly and we can discuss your specific antigen development needs.