Climbing for a Crucial Cause
Dr. John Kenney | 06/28/2019
Editor's Note: We're proud to present our first in a series of reflections from our friend and colleague, Dr. Oren Beske of ATUM. We think you'll find the journey he's on—one that's both acutely personal yet wholly universal—to be inspiring and thought-provoking. At Antibody Solutions, we share the end goal of our oncology drug development partners and clients: To extend the quality and quantity of life for cancer patients, and, once and for all, to pitch cancer headfirst into the dustbin of medical history. We salute Oren and all those supporting the Fred Hutchinson Cancer Research Center (or, in shorthand, "Fred Hutch"). Climb well!
Thanks for sharing Oren's journey with us. (And if you'd like to support him, too, it's way easier than climbing even the smallest mountain.)
John Kenney
Co-Founder and CEO, Antibody Solutions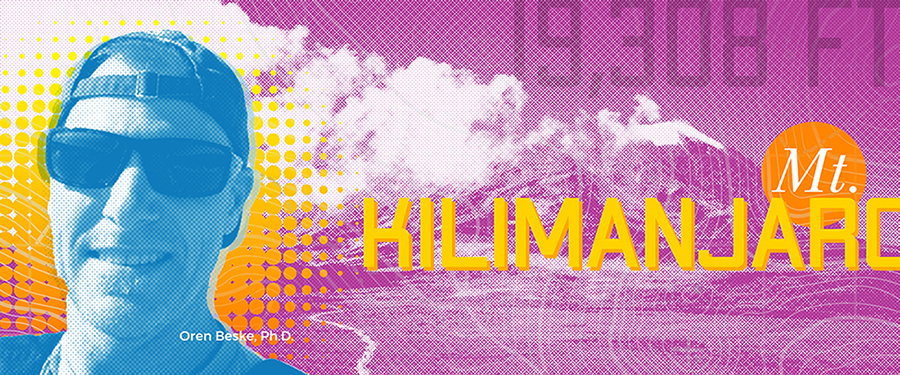 Pre-Climb Post - Part 1
Growing up in Southern California in the 70's, I was engaged in competitive outdoor sports and enjoying every spare minute in the sun . . . trying to keep sunscreen as close as possible. These activities varied from competing at a relatively high level in soccer from high school through my early college days to competitive and recreational surfing (enjoying all there is to enjoy from Baja California, up to the Southern Los Angeles beaches) to "weekend warrior activities" up in the local mountains, skiing giant slalom and occasional mogul fields.
Fast forward 30 years, and I found myself playing soccer again with an adult team in San Jose, Calif. My body not quite as resilient as it used to be, I found myself talking to a sport physician regarding my knees (another story) as well as bunions, shoes, ibuprofen, etc. After a patient 10 minutes of her listening to me lament days past and about my return to the pitch, she said "I am not going to advise you on any of those items until you get that lesion on your neck looked at." Shocked, it took me a few moments to remember that I had this "spot'" on my neck that was somewhat discolored and had slowly been changing shape and size over the past decade or more.
Suffice it to say, I was then referred to an oncologist/dermatologist who proceeded to, over three surgeries and well over 100 stitches, remove three basal carcinomas from my neck and forehead. The "Big Kahuna," as my surgeon so kindly referred to the lesion my sport physician had identified, was so deep that it had nearly invaded the muscle and nerve network in the side of my neck.
Clearly a relief that it was neither squamous cell carcinoma nor melanoma . . . but it was a reality check nonetheless.
Hence, it was a no-brainer for me when a mix of various aspects of my life (outdoor sports, my career in basic science, and my personal relationship with cancer) blended together into an opportunity to join Luke Timmerman and climb Mt. Kilimanjaro as a part of a team of biotech professionals targeting a $1 million raise of charitable funds for cancer research at The Fred Hutchinson Cancer Research Center.
After being accepted as part of the team, I was confronted with two significant challenges: (1) raising a personal target of $50,000 in charitable donations, as well as (2) getting myself in shape to summit the highest peak in Africa at 19,308 ft (5,885M).
Stay tuned for progress on both challenges . . .
Oren Beske, Ph.D.
Amalgamator of Business and Biology
ATUM, Inc.
For More Information: