Climbing for a Crucial Cause - Part 2
Dr. John Kenney | 07/15/2019
Editor's Note: Here's the second installment in a blog post series we're excited to present in conjunction with our friend and colleague Dr. Oren Beske of ATUM. If you missed Oren's first post on his climb to help the Fred Hutchinson Cancer Research Center, you can read it here.

Thanks for continuing this journey with us. Onward and, more importantly, upward!

John Kenney
Co-Founder and CEO, Antibody Solutions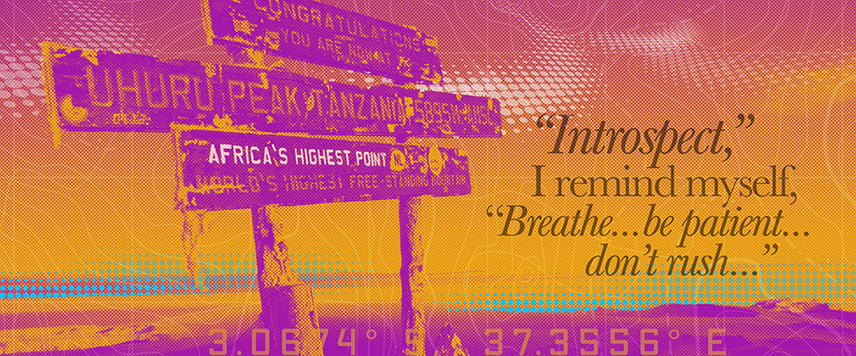 Pre-Climb Post - Part 2
So by now, you might be aware of:

The Climb to Fight Cancer that helps fund The Fred Hutchinson Cancer Research Center;
My commitment to climbing Mt. Kilimanjaro as part of that endeavor; and
My commitment to raising at least $50,000 in donations for the cause.

It's those last two bullet points that have presented me with some unique personal challenges.

First, clearly, climbing up (and back down) Kilimanjaro — which reaches more than 19,300 ft. above sea level and where there is a mere 50% of the oxygen I experience at my home — is a sufficiently formidable task to the Average-Joe-Biotech-Guy.

First up? I need a new pair of hiking boots. Done. (And very comfortable I might add.)

Next, while waiting for new boots to arrive, go for a run — and, OUCH, promptly strained a calf on the first outing. But, my knee, the one that has endured four surgeries, seems to be doing fine . . . whew! ("Introspect," I remind myself, "Breathe . . . be patient . . . don't rush . . .".)

Once healed, I proceeded to engage in short two-to-three mile hikes up at Mt. Madonna state park (in Santa Clara County, California). I set a goal to do this at least twice a week when not traveling for work. Soon, I realized I had hiked nearly every mile of the trails on the map; my new excursions had transitions to five-plus miles with significant elevation gain/loss. My go-to hike became a 5.2 mile down/up that has a section of about a mile or so that is quite steep. My first time, it consumed a full 2.25 hours, but last weekend, I did it while wearing a 25 lb. vest in 90 minutes. Progress!

Thanks to these hikes — combined with jogging on the beach (also while wearing the weighted vest), inclined treadmills at hotels, and weekly hot yoga — I can now confidently say that I am more fit than I was a couple months ago. Despite grandiose plans to hit Tahoe, Whitney and other higher elevations and spend a few nights at 10,000-plus feet, my busy life with family and work didn't allow such outings. So the elevation and reduced-oxygen challenge will just have to serve as a real-time experiment while climbing Kilimanjaro. Am I physically ready? Well, I feel good . . . and am as ready as I can be, all things considered. Only time will tell.

Then there's the other bullet point that presents a challenge: the fundraising.

I, and all the others on our team, each committed to raising $50,000. And, by "commit," that means that I was obligated to come up with the funds, one way or another! Needless to say, there were many times during this process that I felt despair. Emails were going unanswered . . . generosity was not necessarily found where I thought it would be . . . and at times, my enthusiasm for the cause turned to stress and disappointment.

But I had committed, and I put in the effort. I reached far and wide, and nearly got sponsorships from REI and Patagonia (next time I will!). I reached out to former and current colleagues. I connected with friends I hadn't seen in years. And I began to realize that this effort was not only raising money for a great cause, but also bringing me closer to many wonderful humans. We were connected in a common community, a community with a desire to promote human health and wellness and a desire to help in the fight against cancer. The donations started coming in. They ranged from $10 to $10,000, and I heard many inspiring stories along the way. In the end, I am very proud and personally touched that I was able to raise nearly $60,000 for the Fred Hutch Cancer Research center — and to report that our team has raised over $1.5 million!

Tonight (I'm writing this post on Thursday, July 11), I'm flying with my eldest son to Seattle for an AAU basketball tournament during the last official NCAA viewing period of the summer. My wife and younger son are staying behind this time, gifting me with some quality time with our eldest as he navigates heading into his senior year of high school and the daunting challenge of identifying the right collegiate experience for a balance of academics and athletics. I will get three nights at home upon my return before heading to SFO, this time to the international terminal, en route to Tanzania to summit Kilimanjaro. That will be just enough time for a last-minute REI run for any forgotten items . . . to check and double check the gear list . . . and to pack my bags.

I look forward to sharing a final post with you upon my return. Meanwhile, you can follow our progress starting around July 19 at this website.

Oren Beske, Ph.D.
Amalgamator of Business and Biology
ATUM, Inc.
For More Information: