PEGS Boston 2019 Takeaways
Dr. John Kenney | 04/24/2019
What do you get when you inject 2,600 participants into more than 400 sessions, 300-plus research posters and more than 150 exhibitors and then put 'em all next to Boston Harbor for a week?
PEGS Boston 2019: One of the best antibody engineering conferences around!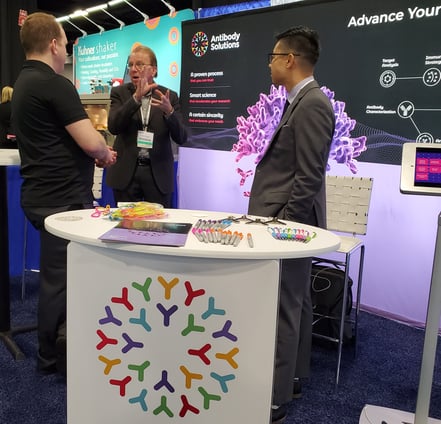 The Antibody Solutions team came back from this year's summit with a positively prodigious panoply of new ideas, new perspectives, and new professional connections. First and foremost, though, we came back with big smiles. Many of our clients were at PEGS, and it was great catching up and hearing about their latest research projects (we seriously love the science part of this business).
We also enjoyed talking with all the folks who dropped by our booth to learn more about our latest research, including how to optimize your therapeutic discovery strategies using human antibody transgenic animal platforms. Josh Lowitz, our manager of project management, presented data during the poster session from our experience working with multiple transgenic platforms, including OmniAb®(OmniRat® and OmniMouse®), Harbour H2L2®, Trianni Mouse® and the Alloy Therapeutics ATX-GK® mouse. If you missed out on the poster sessions or are just interested in learning about how you can put these strategies to work for you, you can download a copy of the poster here. And Josh or any of us here would be glad to walk you through the results and discuss how they may apply to your work.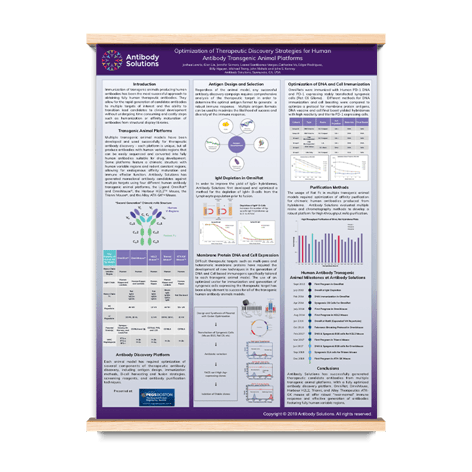 Another hot topic during the week was -- no surprise here, of course -- CAR-T. CAR-T and other emerging cell therapies are part of an exciting and rapidly growing field of biotherapeutics that's clearly going to keep growing and could become the gold standard not only in cancer therapy, but in many other diseases as well. Trailblazers and pioneers in the field presented exciting new clinical and pre-clinical data at this year's PEGS conference on the efficacy of this therapeutic class.
From where we sit, there's a growing unmet need for high-quality monoclonal antibodies and other critical reagents to support the development and characterization of cell therapies. At the same time, however, there are a range of challenges that will need to be solved. For example, PEGS attendees learned that a key issue with most CAR-T and cell therapies is the evolving state of regulatory guidelines compared to those for other biotherapeutics. The FDA is currently in the process of establishing guidelines for CAR-T to promote safety without discouraging development and technological advancement. In short, everyone who participated in these sessions walked away with an understanding that parameters such as toxicity, pharmacokinetics, pharmacodynamics and efficacy need to be better addressed.
We also very much enjoyed Wednesday morning's sessions on engineering antibodies. Two of the three presentations covered the benefits of micro-droplet technology in antibody discovery. In particular, the speakers noted that they had successfully used:
Microdroplet technology in conjunction with a functional assay to screen T cells
Microdroplets to put a single cell per droplet and insert in reagents for a double sandwich ELISA
A magnetic field to sort between positive and negative cells
We found these results quite interesting and believe they definitely show promise. Our team will be investigating this further in the future, to be sure.
And finally, there were two BIG takeaways from PEGS Boston 2019 that we wanted to share.
First and foremost, getting into Boston before 5 p.m. to pick up your conference badge is the way to go. There was no line at all!
And second, once you get to the last day of these conferences, it's pretty clear everybody is ready to head home and sleep in their own bed. But there's really nothing like these events when it comes to networking opportunities with industry colleagues, gaining new insights into the state of the science, and generating qualified leads. We look forward to returning to the next PEGS Boston on May 4 - 8, 2020. Be sure to mark your calendars as we'd love to see you there.
To learn more about how we can help you advance your research, please contact us by phone at 650-938-4300 or 888-843-1069 (toll-free) or via email at inquiries@antibody.com.