Anti-Idiotype Antibodies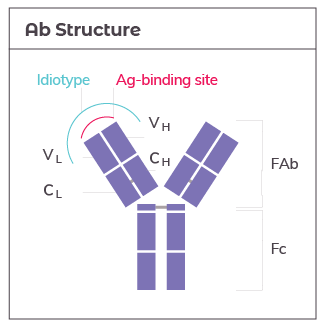 Advancing your research efficiently demands a mastery of a seemingly infinite list of critical, minute details. Question is, where should your team put its finite resources when time, budgets and executive patience are limited?
With Antibody Solutions as your partner, you can tap 20-plus years' of antibody development expertise to maximize your productivity in a key pre-clinical research phase. For example, as we apply our skills and experience in developing monoclonal and affinity-purified polyclonal anti-idiotype antibodies on your behalf, you can more effectively leverage the skills and experience of your professionals by freeing them to focus their time on doing what they do best.
With "specificity" as our key watchword, our anti-idiotype antibody development programs are designed to help you trim your timeline through:
Better designed assays and smarter selection of antibodies through unlabeled pairing analysis (including both antigen-free and antigen-bound target antibodies)
Our exclusive Hybridoma Library™ bulk fusion process that immortalizes and cryopreserves the entire immune response at one time
High-throughput cell sorting technologies built on advanced flow cytometry
Research programs that develop monoclonal anti-idiotype or polyclonal antibodies for pharmacokinetic (PK), pharmacodynamic (PD) and anti-drug antibody (ADA) assays
To put our detail-oriented team to work on all the little things that can make a big difference in successful anti-idiotype antibody development, contact us to get started with your next research initiative. And please also take a look at a related research study that we conducted, Development of Antibodies and ELISAs to Measure Free and Total Oblitoxaximab (ETI-204) in the Presence of Anthrax Protective Antigen PA63.